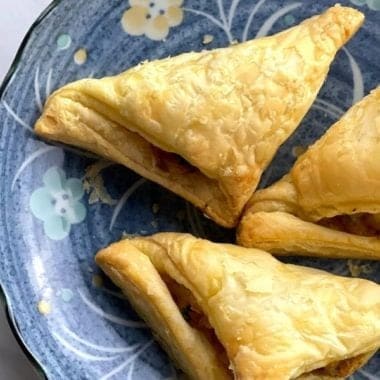 Baked samosas don't require deep frying which makes them healthier and easier to make. They are a great alternative to the regular fried version of the dish.
Tips for Successfully Making a Samosas Recipe
The Indian cuisine is full of rich and diverse dishes. Baked Samosas are usually served with chutney or as a snack.
Baked Samosas date back to medieval times and are now famous all over the world! There are two main types of samosas in India: vegetarian and meat-filled. Vegetarian samosas can be made with potato, cauliflower, peas, onion, carrots or green beans. Meat-filled ones can be made with ground lamb or beef along with onions, garlic, ginger and spices.
There are many ways to eat these savoury snacks – one way is to dip them into a thick curry sauce! They also taste great when served as an appetizer for dinner parties or buffets!
What Makes Baked Samosas So Great… They're SO Delicious!
Samosas are a traditional Indian dish that is often served as a snack or appetizer. The dish is usually made with a pastry dough that is deep-fried. Traditionally, samosas are filled with mashed potatoes and peas, but they can also be filled with ground meat, lentils and vegetables, like onions and carrots. But later the baked version became also very popular as a street food, specially in the school and collages canteen. It is one of the popular cafeteria snacks. And there are plenty varities. like Paneer baked samosa, or the spicy version with the Sev.
Samosas originated in North India and Pakistan around the 16th century. They were traditionally made by folding the pastry in half to form a triangle shape before filling it with potatoes or other fillings. The shape of samosas resembles an ear of maize or sorghum, and they are often called Samsa in Arabic countries of the Middle East.
Who doesn't love samosa? They are one of the most popular foods found at Indian restaurants worldwide! and so do the baked samosa, especially in Central India.
Perks of Making Your Own Baked Samosas at Home
One of the advantages of making your own baked samosas at home is that you can make them just the way you want them. You have control over the size, shape, and flavour. You can also save time and money by making your homemade samosas instead of buying them from a restaurant or store.
By making your own samosas at home, you can use whatever ingredients you want in your recipe instead of being limited to what is available in stores. This means that you can substitute the potatoes with vegetables, like carrots or onions, if you prefer those flavours more.
Quick Tip: Don't Forget the Coriander (Cilantro)
In the world of food, coriander is also known as cilantro. The herb has a distinctive taste, and its leaves are a natural source of nutrients. It can be added to salads, sauces, curries, and even desserts. Coriander (cilantro) can also be used to add flavour to your yoghurt or ice cream!
Adding Cilantro in fried Samosa filling and baked samosas is a must for me, and I hope you all agree with me.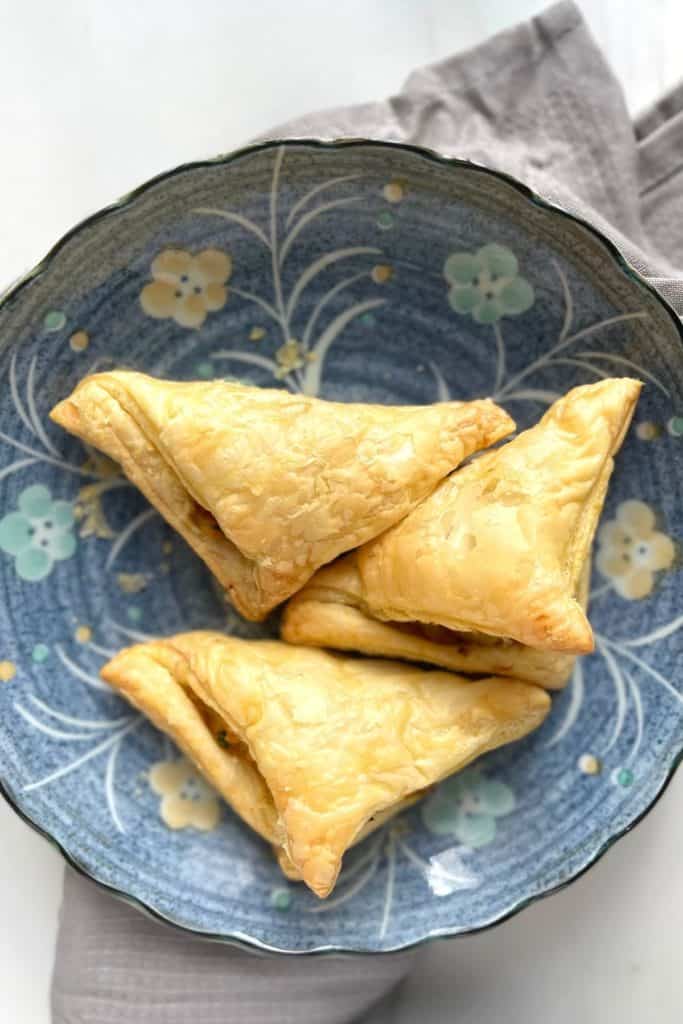 Conclusion: Delicious, Homemade Baked Samosas in Less Than an Hour? Yes Please!
Indian food is considered one of the most popular types of cuisine in the world. The Baked samosas are typically a savoury pastry that is filled with potatoes and fried. But they can be filled with other ingredients such as lentils, peas, paneer or even chickpeas.
This traditional Indian dish has many variations in different parts of the country, and it differs both in its size, shape and consistency. A lot of people enjoy it as a snack or appetizer with their favourite drink while others eat them as a main course meal.
The best thing about this scrumptious dish is that you can make them at home yourself! And better yet – they will only take less than an hour!
Some of the other nice and easy snacks recipes
How to Make Delicious, Fluffy Baked Samosas at Home
Baked samosas don't require deep frying which makes them healthier and easier to make. They are a great alternative to the regular fried version of the dish.
Ingredients
3

Pastry sheets

2

medium

Potato

1

tbsp

Oil

1/4

cup

coriander leaves

Chopped

1

tsp

coriander powder

1/2

tsp

Turmeric powder

1/2

tsp

red chilli powder

1

green chilli

Chopped

1/2

tsp

Mango powder
Instructions
Boiled the potatoes, and let it cool. Mashed the potato lightly, keep some chunks slightly big.

Add salt and trumaric powder.

Heat the pan and then add oil.

Add the remaining spices and the mashed potatoes. Mix everything well, and let the Potato Masala cool down.

Devide the mixture in three equal parts, and fill in the each pastry. Close the pastry with two opposite edges. Do not close it from all the sides. (As shown in the video)

Bake it for 15 minutes at 220 Centigrade.
Video
Notes
You can serve the samosas with tomato or chilli ketchup
Also can fill chopped onion and some spicy masala like they do normally in the street-side restaurant.
Nutrition
Calories:
164
kcal
|
Carbohydrates:
28
g
|
Protein:
3
g
|
Fat:
5
g
|
Saturated Fat:
1
g
|
Polyunsaturated Fat:
1
g
|
Monounsaturated Fat:
3
g
|
Trans Fat:
1
g
|
Sodium:
64
mg
|
Potassium:
622
mg
|
Fiber:
4
g
|
Sugar:
2
g
|
Vitamin A:
93
IU
|
Vitamin C:
30
mg
|
Calcium:
23
mg
|
Iron:
1
mg