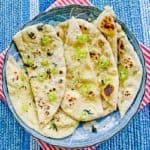 It is one of the most featured recipes in many articles. You can easily make naan using your stove, and it is as good as Tandoor/Oven naan.
As the title says, Stovetop naan is a stovetop version of Naan, this is something I always make whenever I invite my friends for lunch or dinner. It's not only easy to make and but also a good surprise for them because normally people don't expect naan to be served at homecooked meal fiesta. At least the friends I have definitely not.
Stovetop Naan is very easy to make. Trusts me the outcome is better than the tandoor one( no offence). You can make many variations once you know the basics of making dough for naan. My favourites are Garlic butter naan and Paneer Naan. Cheese naan is very popular here in Malaysia. I had it the first time here in Kuala Lumpur. It was not very popular in India back in those days(the year 2006 or before). 😊
A little food story behind the stovetop naan
I also have this often at our office cafeteria. They serve it with mint chutney and lentil curry or Grilled Chicken, which is also a good combination. Yeah, sometimes you find chicken 🍗 not cooked properly or sometimes surprisingly overcooked. That's the thing about cafeteria food.
Though I have had a very good rapport of being a foodie with the cook there and he keeps experimenting with the afternoon snacks, and I am the first one to try most of the time. What I learnt to from him is to take feedback for improvement. So one thing that amazes me in his canteen side restaurant the big traditional clay tandoor but instead of wood, he uses an LPG cylinder. and Naan quality really not great every single time.
So What I learnt :
Doug consistency matters
Tandoor is to cook the naan with even heat, but if something fundamentally wrong then tandoor also cannot do anything.
the naan is crispiness depends on the dough and the thinness of the naan.
So if that is the case, then all I have to do is to prepare the proper Naan Doug and cook it with even heat. So why I can't do this without an oven? Anwer is yes you can, and the result is less messy fresh naan in your kitchen without dealing with any hassle of the clay oven.
You need the following to make perfect Naan :
A thick iron or nonstick skillet
A lid almost the size of the skillet. The lid is used to cover the naan while cooking on the skillet.
Some extra tips:
I use chopped green chillies and coriander to garnish the naan.
brush the naan with butter just after it is off the skillet.
If you are going to keep it a bit longer then wrap it in the cheese or cotton cloth before keeping it in the box.
keep the chopped garlic/onion/cheese before you start making naan for convenience. This will save your time and you can only focus on making the naan quickly.
Don't worry about the shape when you roll the naan. No one expects naan to be round shapes like chapati or torialla. (the best thing about naan). I always found different shapes of naan in restaurants.
I prefer to eat with any vegetable or curry, but as earliest as possible once it is out of the stove. I like hot naan, cold get more chewy and no crispyness at all. My some of the favourite curries, which I cook normally whenever waw have guest at home.
You can check all the curres recipes I have posted in mywaytocook here.
Garlic Naan
It is one of the most featured recipes in many articles. You can easily make naan using your stove, and it is as good as Tandoor/Oven naan.
Ingredients
3

cup

all purpose flour

3/4

cup

warm water

1

tablespoon

yeast

1

teaspoon

sugar

10/15

garlic cloves finely chopped

1/2

teaspoon

salt
Instructions
Mix water,yeast  and sugar. Keep it aside for 5 minutes until you see fluffy layer on top.

After five minutes

Yeast is ready, add salt,mix it in flour and knead for 10-15 minutes. Cover the dough with plastic wrap or wet cloth and let it rest for 1 and 1/2 hour

After 1 and 1/2 hour

Chopped garlic

Punch the dough. Take a handfuls of dough(about size of gold ball).

roll it into think circle or whatever shape you want.

spread some chopped garlic

Roll it again. 2 times.

Heat skillet on medium heat, place naan on skillet

Once it start bubbling / raising turn it on the other side

Hear is a tip : at this stage I normally cover it with lid for 15-20 seconds to make it more fluffy. This step is optional 🙂

Naan is ready.

Brush it with butter
Nutrition
Calories:
175
kcal
|
Carbohydrates:
37
g
|
Protein:
5
g
|
Fat:
1
g
|
Saturated Fat:
1
g
|
Sodium:
148
mg
|
Potassium:
56
mg
|
Fiber:
1
g
|
Sugar:
1
g
|
Vitamin A:
1
IU
|
Vitamin C:
1
mg
|
Calcium:
8
mg
|
Iron:
2
mg