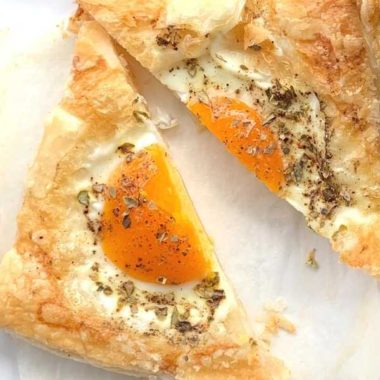 Love to make this tart for breakfast. I normaly dump evey salad and dips I have available in my refrigerator. I hope you like this recipe.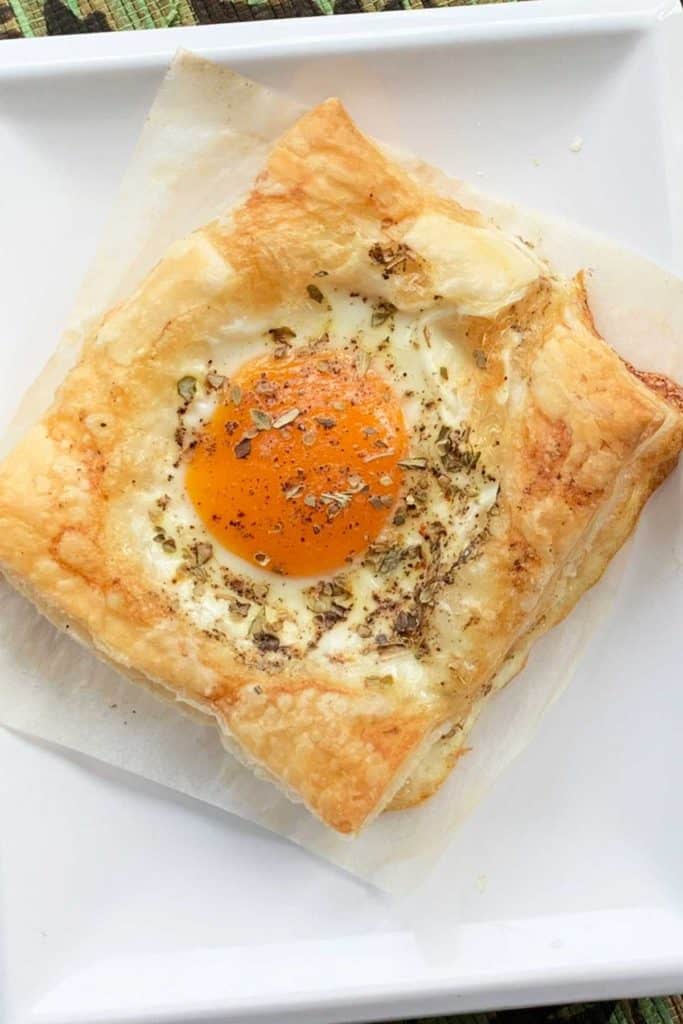 How to Make Egg Puff Pastry Breakfast Tart
What is Egg puff-pastry breakfast tarts?
It is a pastry cooked with eggs and other toppings. Egg puff-pastry breakfast tarts is delicious and very quick to make without much hassle. It is so easy to make that you can manage the whole tart with only two ingredients, and you add as much as topping you want. You can top it with cheese, tomato, asparagus, or any other spread of your choice and it is good to go as a brunch. A healthy and quick breakfast.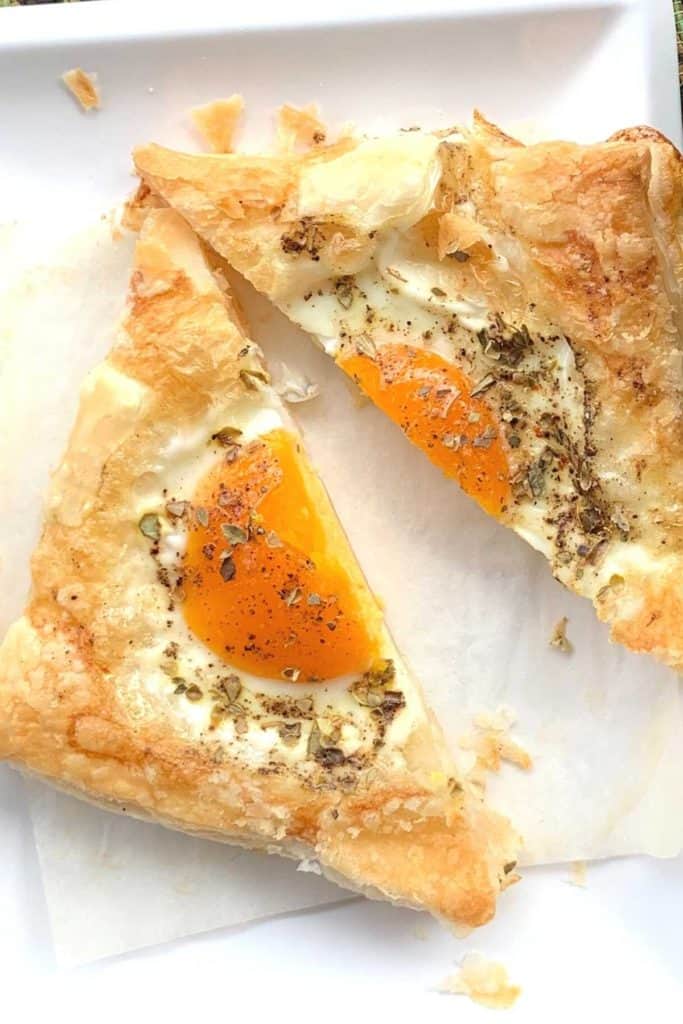 The Secret to Perfect Egg Puffs
Fresh eggs and ready made pastry sheet. I always use the Kawan Pastry sheets, which is easily available in any grocery store in Malaysia. Or as one time efforts you can prepare the homemade pastry sheets in advance and keep it frozen to use it as and when you want. I normally sprinkle some dried oregano, black pepper, and salt. Because I love using the dried herbs. I always sprinkle some oregano, thyme and basil leaves on my pasta, omelette and sandwiches. You can create so many variations. I prefer this normally when I want something special but do not have much time to spend cooking. It's always a beautiful special treat for me.
You can follow the same recipe with 4 inch sheet or 8 inch sheet depends on your preference. 4 inch sheet is good with 1 egg, but If you are using 8 inch sheet then you can add up to 4 eggs. and more scope for adding additional toppings.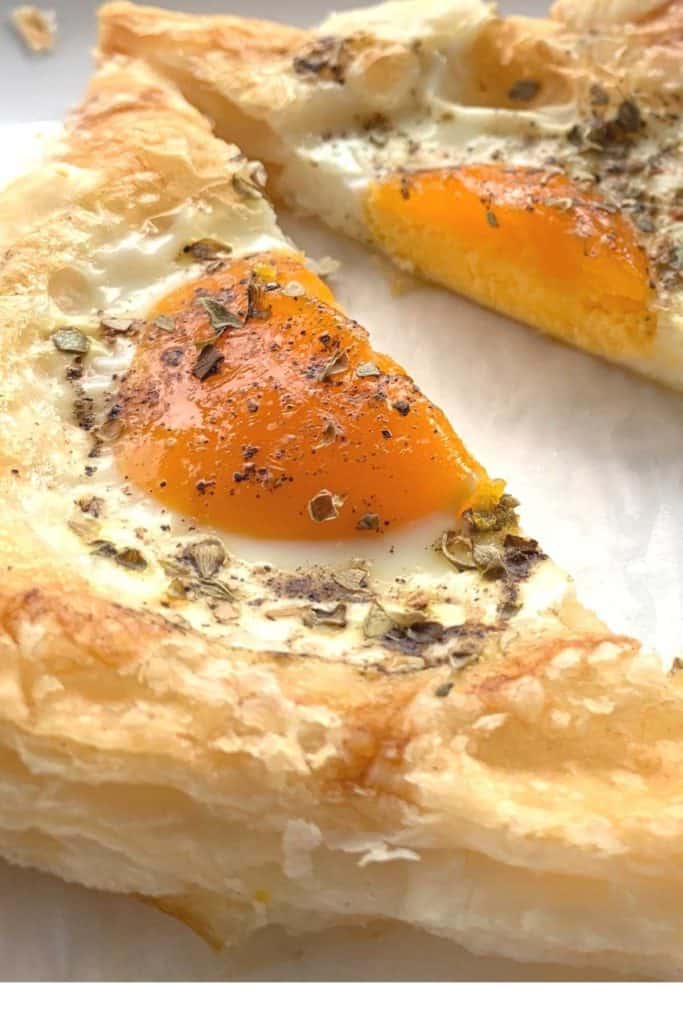 Six Delicious Recipes for Egg Puff Pastry Breakfast Tarts
I feel these combinations of toppings works really well , again do not limit yourself with the list given, you can add as many as combination you want.
Some of the other variations
Parmesan Cheese, Grilled Asparagus, Olive oil with eggs
Cream cheese and red pepper tart with eggs
Ham, Cheddar, and green onion tart with eggs
Spinach and feta breakfast tart with eggs
Italian sausage, tomato sauce, and mozzarella breakfast tart with eggs
Feta, olive oil, and lemon zest breakfast tart with eggs
Tips :
Use some fresh dips like Pesto, chimichurri or tahini
Egg Puff Pastry Breakfast Tart
Love to make this tart for breakfast. I normaly dump evey salad and dips I have available in my refrigerator. I hope you like this recipe.
Ingredients
1

Egg

1

Pastry sheet

1

tbsp

Butter

1/4

tbsp

Dried Oregano
Instructions
Make a hole in the middle of the pastry sheet with the help of any jar cap.

Roll the round part slightly thin.

put this under the pastry sheet as a base.

Transfer the pastry sheet to the baking sheet, and bake it in the oven for 5 minutes.

Take the sheet out and crack the egg in the middle. 

Bake it again until the pastry and eggs look properly cooked.

sprinkle some oregano and salt as per your taste. Enjoy the awesome breakfast.
Video
Notes
You can try any dips with tarts
Drizzle some olive oil or grapeseed oil, if you have it available in your pantry. 
Nutrition
Calories:
1417
kcal
|
Carbohydrates:
112
g
|
Protein:
23
g
|
Fat:
98
g
|
Saturated Fat:
25
g
|
Trans Fat:
1
g
|
Cholesterol:
143
mg
|
Sodium:
680
mg
|
Potassium:
238
mg
|
Fiber:
4
g
|
Sugar:
3
g
|
Vitamin A:
254
IU
|
Vitamin C:
1
mg
|
Calcium:
83
mg
|
Iron:
7
mg