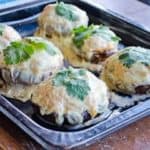 Enjoy the stuffed portobello mushrooms filled with Mexican tomato rice. It is so healthy and delicious. You don't need any side with this.
I had no plan to cook Stuffed Portobello Mushrooms but when I saw a packet of fresh Portobello Mushrooms at Isetan@KLCC, I really couldn't stop myself to buy this amazing vegetable. I had this first time here in Fresca Mexican Kitchen & Bar and I am in love with this dish since then.
These vegetarian healthy Stuffed Portobello Mushrooms make a hearty, satisfying meal. Portobello mushrooms are one of the healthiest vegetables out there, and it is perfect for weeknights. They have a low-calorie content, high protein content and are usually grown without pesticides or other chemicals. Portobello mushrooms are also highly versatile! Mushrooms can be grilled, sautéed, roasted, baked and deep-fried, and they always come out tasting amazing every time!
If you are in the mood for a heartwarming, hearty meal that tastes delicious and looks like it came from a Michelin-starred restaurant, this recipe is for you. Stuffed mushrooms are always a hit among vegetarians and meat-eaters alike. They are also easy to make if you are the know-how. To ensure that your mushrooms stay juicy and moist throughout the cooking process, I recommend stuffing them with a creamy filling of mashed potatoes, spicy sausage, and chives. This way, they will be perfect for any occasion.
Why are Portobello mushrooms so Good for You?
The flavour profile of portobello mushrooms is perfect for any dish you want to make. Whether you need a meat replacement or a vegetarian dish, they will always be able to fill in that missing gap.
In addition to their versatility and taste profile, portobello mushrooms contain vitamin D, an important nutrient for bone health. This vegetable also provides vitamins A and C which help boost your immune system as well as folate which helps in
Different variations and some of the top rated stuffed portobello mushroom recipes
The dish is vegetarian and can be vegan as well.
There are many variations to this dish, which you can try out by adding different ingredients. For instance, one can add bacon for a touch of saltiness and flavour or cheese for some extra decadence if one is not into the vegan version of this dish.
You can also have potato stuffing and topping with Chedder cheese and hint of black pepper. 
One of the most popular ways to cook mushrooms is by stuffing them with things like rice, minced meat, or cheese. 
Italian stuffed portobello mushroom recipes
spinach stuffed portobello mushroom
sausage stuffed portobello mushroom recipes
grilled stuffed portobello mushroom recipes
Some people like to start with a recipe and then make changes to suit their taste. Other people have a specific dish in mind before they begin cooking. If you are the latter, this article will provide some tips for preparing stuffed mushrooms.
You can replace Mexican tomato rice with any other rice of your choice. But I suggest, the tomato one goes so well with mushrooms.
You can add garlic powder or minced garlic cloves to the stuffing mixture for more flavour.
You can also add fresh parsley as a garnish when they come out of the oven
If you're looking for an easy and filling vegetarian dinner that is perfect for dinner time, this dish is just what you need! It only takes about 30 minutes to cook, and it's so tasty.
Special Notes
There a few things to consider when you are preparing stuffed mushrooms:
First, you should clean the mushrooms with a damp cloth and brush. This will remove any debris that might be inside the mushroom.
Next, make sure that your stuffing is ready for use. If it is a raw stuffing, then chop your vegetables if necessary and mix with the meat or other ingredients. If it is cooked, then mix all of the ingredients together in a bowl and season as needed.
Finally, fill the mushroom caps with the stuffing mixture and place them on a baking sheet lined with parchment paper before popping them into an oven preheated to 220 degrees Centigrade for about five minutes or until browned on top and cooked through (internal temperature should be 200 degrees Centigrade).
After removing from oven let cool slightly before serving
Don't forget to check Mexican rice recipe
Stuffed Portobello Mushrooms
Enjoy the stuffed portobello mushrooms filled with Mexican tomato rice. It is so healthy and delicious. You don't need any side with this.
Ingredients
1

packet of Portobello mushrooms

6 medium size

3

cups

of cooked Mexican rice

6

slices

of cheddar cheese.

2

tablespoon

olive oil

1/2

teaspoon

garlic powder

1/2

teaspoon

black pepper powder

1/2

dried oregano powder

1/2

teaspoon

salt
Instructions
Clean mushrooms and remove the stems

mix garlic powder,black pepper and salt in olive oil

apply the mix both sides of the all mushrooms

Now fill it with Mexican rice.

repeat the same steps with rest of the mushrooms

top the mushroom with cheddar cheese slice.
Nutrition
Serving:
1
g
|
Calories:
467
kcal
|
Carbohydrates:
78
g
|
Protein:
13
g
|
Fat:
11
g
|
Saturated Fat:
4
g
|
Trans Fat:
1
g
|
Cholesterol:
18
mg
|
Sodium:
312
mg
|
Potassium:
435
mg
|
Fiber:
2
g
|
Sugar:
2
g
|
Vitamin A:
173
IU
|
Vitamin C:
1
mg
|
Calcium:
153
mg
|
Iron:
1
mg